Swarnachari Baluchari
Show Filters
Baluchari  Saree & Swarnachari Saree
If we start a talk about tradition of bengal Sarees for Wedding then Baluchari Sarees & Swarnachari Silk saree Online exude the motivation. These propelled the artisans of Baluchar centuries ago.
The art is about depicting tales through their handwoven silk sarees. Most i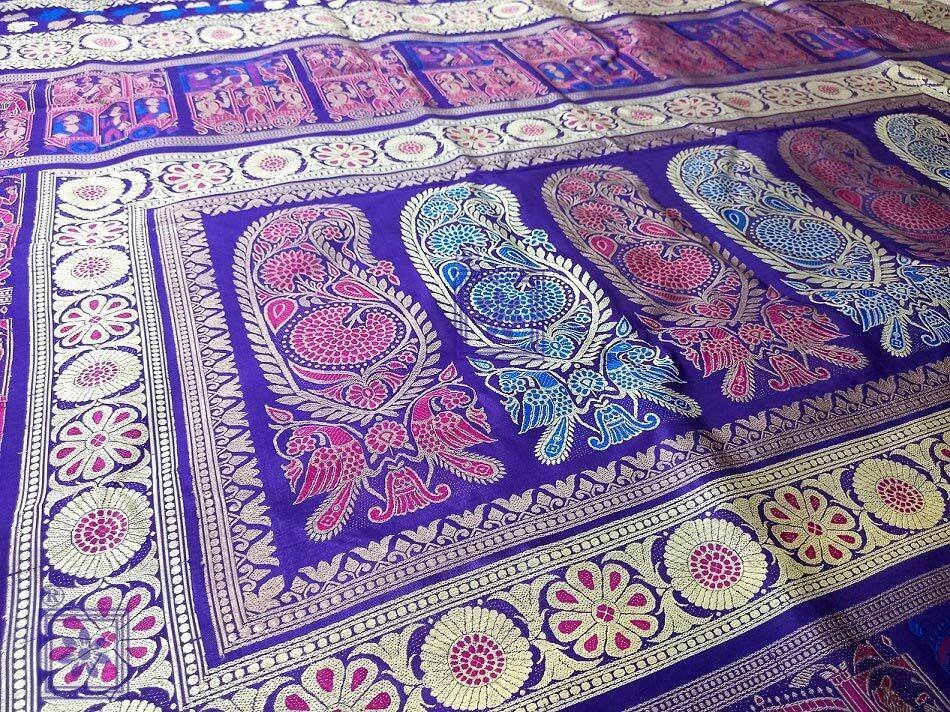 importantly These Sarees characterized by artistic motifs. It depicts scenes from Ramayana, Mahabharat and other Mythologies. Beside this sculptures made on historical temples weaved on the saree borders and pallu.
Baluchari Work in Pallu reflects the deep engage-ment of the artist and motivation to carry forward our traditions.
The first Nawab of Bengal, Murshid Quli Khan patronized this rich weaving Bengal Saree tradition. Firstly he brought this craft to Baluchar village of West Bengal. And as the time passed the culture of this weaving tradition moved to Bishnupur, the City of temples of Bankura District. His encouragements made this art earn accolades worldwide. From the beginning story of this art finally named it Baluchari Saree. And It flourished with the name of Balucheri weaving.
Balucheri sarees are also very popular today. These are in trend as Sarees for Wedding and high profile parties. Because these sarees are a work of art in their own right. The Baluchari Sarees & Swarnachari Silk saree Online are adored globally for different designs. Baluchari Saree patterns are actually like a picture book. Besides that showcases some of the most revered mythological stories of India. Adorning the borders and pallus, these vivid illustrations are extremely unique. Besides that Some sarees also depict instances out of ancient times or even Vedic themes.
For any special occasion anyone can browse and wear Sournachari sarees or Baluchari sarees with price. Its no doubt handpicked sarees for occasions like marriages and religious celebrations. Because of their special designs that have a religious element attached to it.
Baluchari & Swarnachari Saree
Baluchari and Swarnachari sarees are two of the most popular and beautiful saree styles weaved in West Bengal. Both of these sarees are crafted from fine Bishnupuri Katan silk , which gives them a grand look and makes them a great choice for special occasions such as weddings.
The Baluchari & Swarnachari sarees are characterized by intricate designs that depict mythological scenes or religious stories, while the Swarnachari saree is decorated with gold or silver thread weaving. Both of these styles offer an elegant and sophisticated look that will make you look stunning at any Indian wedding or special event. Both of these represent the culture and heritage of Bengal. Whether you're looking for a traditional wedding saree collection or just want something unique, you can find it in the Baluchari and Swarnachari sarees offered by Online Naksha.
No matter what type of occasion you choose to wear your Baluchari or Swarnachari saree for, you can be sure to look your best with these timeless pieces of traditional Bengali Saree.
How to Choose Baluchari & Swarnachari Saree
There are many ways to choose beautiful baluchari or swarnachari sarees. You can select baluchari or swarnachari sarees based on the occasion, for traditional events you can go for traditional baluchari silk sarees, whereas for parties and wedding events you can experiment with swarnachari and style them with gold jewellery for the perfect look.